9+ must-have apps to survive the holiday travel season
---
Published on thepointsguy.com | 29/11/2020 I Direct link
Airline apps
Download the apps of the airlines you fly regularly. Not only can they give you the latest information on your flights, but you can also rebook your own flights, make seat changes, pay for upgrades, volunteer to be bumped and reach customer service quickly when things go wrong. Airlines have become much more proactive in automatically rebooking you when your flight is canceled, and that information shows up automatically on your phone in the app.
FlightAware

Factors such as weather delays and mechanical problems can wreak havoc on airline flights. If you want the latest information on your travels, the FlightAware app lets you track flights online, see a live map of a flight and check on those pesky delays, cancellations and gate changes. The app can be a lifesaver if you have a tight connection. It's also useful when picking friends and family up at the airport.
Disney+
Because I'm a Marvel, Star Wars and National Geographic geek — and I have a Disney-loving kid — I went ahead and got the Disney+ app. The Disney+ app has a pretty cool feature that can be extremely helpful when you're traveling. You have access to unlimited downloads (based on how much storage you have on your device) of shows and movies you can watch offline on up to 10 mobile or tablet devices — no internet connection needed. So while I'm bingeing Star Wars' "The Mandalorian," my kid can watch "The Princess and the Frog" for the 642nd time, and everyone is happy.
FLIO

It's bad enough to be stuck at the airport. But it's even worse when you're wandering around the terminal looking for restaurants, bathrooms or an electronics store. The Flio app has useful information and tips to navigate more than 3,000 airports around the world, including everything from how to get to/from the airport to finding pre- and post-security restaurants, shopping, lounges and power outlets. You can also receive notifications for delays, gate changes, boarding times and baggage claim belts. It also has vouchers for exclusive offers and discounts for restaurants, cafes and duty-free shops. You can buy Fastlane security checkpoint access, book entry into more than 1,200 airport lounges or reserve airport parking spaces ahead of time.
Hotel Tonight

Your evening flight is canceled, nothing is flying out for the rest of the night and you need a place to sleep. The Hotel Tonight app allows you to book a room for the same evening or, depending on the location, you can book up to a week in advance for stays up to five nights or up to 100 days in advance for stays up to 14 nights. You sometimes will find, however, that prices drop as the date gets closer.
Hotel room categories are basic, luxe, charming and high-roller and you can get some really sweet last-minute deals. A quick look at hotels near Baltimore-Washington International Airport yielded a Fairfield Inn & Suites for $71 a night, Holiday Inn Express for $72 a night, La Quinta by Wyndham Baltimore BWI Airport for $76 a night and TownePlace Suites BWI for $86 a night.
Day Use
You're facing a lengthy delay or you have a long layover at the airport. You're tired and an airline lounge is not going to be enough. The Day Use app offers up a list of more than 5,000 hotels in 25 countries that offer day rates at between 30% and 75% off an overnight stay. You get access to all of a hotel's amenities, can book without a credit card and can cancel your room reservation anytime.
LoungeBuddy
LoungeBuddy offers access to premium airport lounges around the world, regardless of the airline or class you're flying. When you create a trip in the app, it tells you which lounges you have access to based on the airports you'll be transiting through, as well as how to purchase access if you don't already have it. You can purchase access on the day you're traveling or up to two months in advance if you're the plan-ahead type. If you prefer to search by lounge or lounge program, the app will tell you exactly what is needed to use them.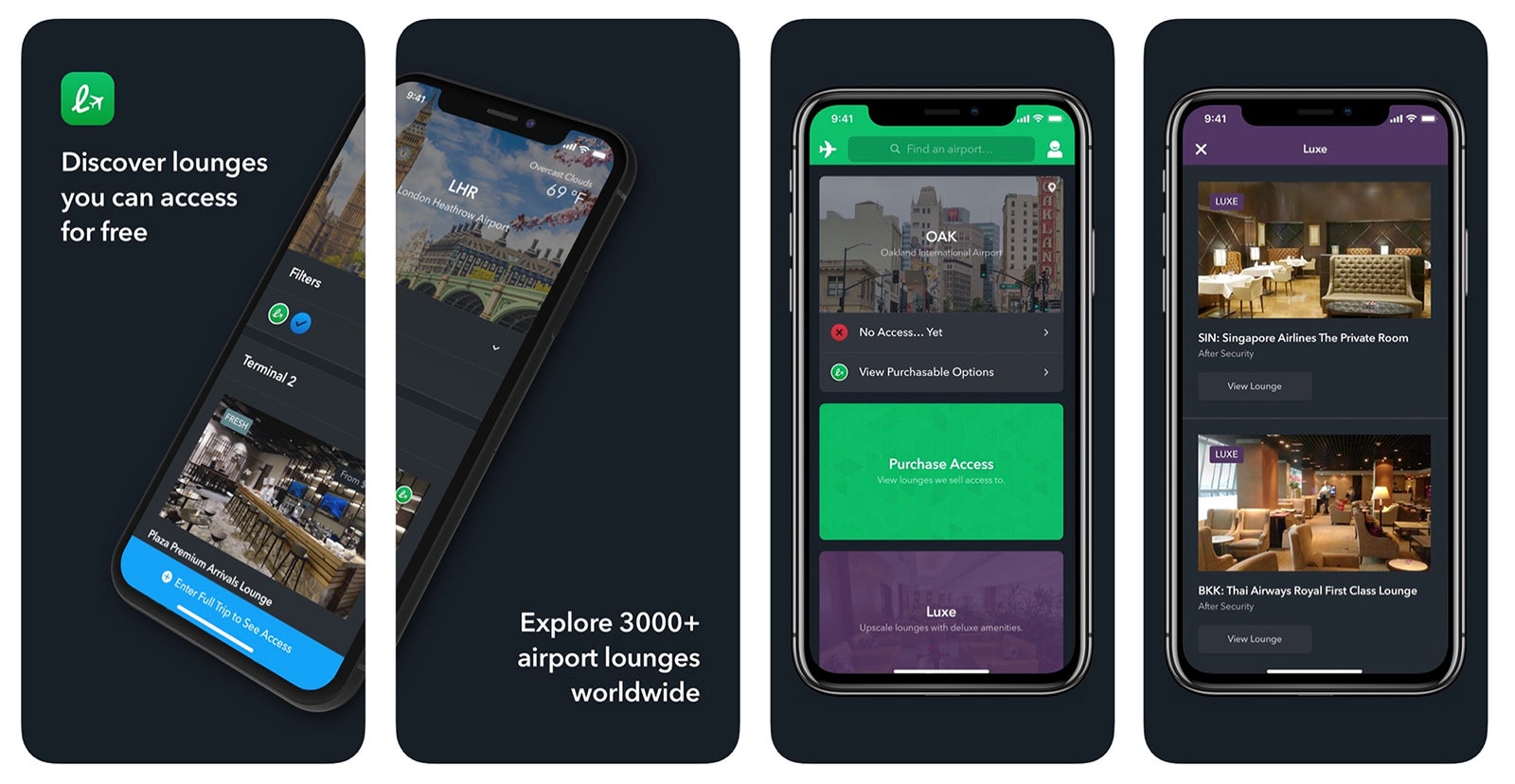 HappyCow
The good news is that airports have really stepped up the food and beverage options they offer in their terminals. The bad news is it can be harder to find vegetarian or vegan options. The Happy Cow app is ready to help. The app is crowdsourced by an online community that helps travelers find plant-based and vegan options, along with healthy food, at restaurants and stores around the world, including airports.
Grab

You've landed at the airport and you have a tight connection. Or the lines at airport eateries are wrapped around the terminal. If you have the
Grab app
, you can order and pay for your food at the restaurant of your choice from your phone and have it ready and waiting when you pick it up. The app serves 39 airports around the world. If you have the American Airlines app on your smartphone, you can order on it directly. Grab automatically appears on the home screen of your device if participating restaurants and retailers are available, based on your itinerary.